Burleigh pottery is an excellent collection of pottery that is made in England. That is rather uncommon, as you may already know many ceramic products sold in in the West are created in China. England has a long history of pottery making and stoke in trent is at the hub of the pottery world in the UK.
Blue and White pottery Collector Anne reports "A tiny blue and white bottle that I purchased for about pound led me to believe that my collection is really blue and white. It is very inspiring to look at, and I believe that's why a lot of collectors all over the world enjoy collecting Burleigh as much as I do. The entire range of Burleigh British ceramics captured my imagination, from the gilded wear to the enameled wear to the hand-painted wear to the sprigs."
This is one Burleigh's most recent collections.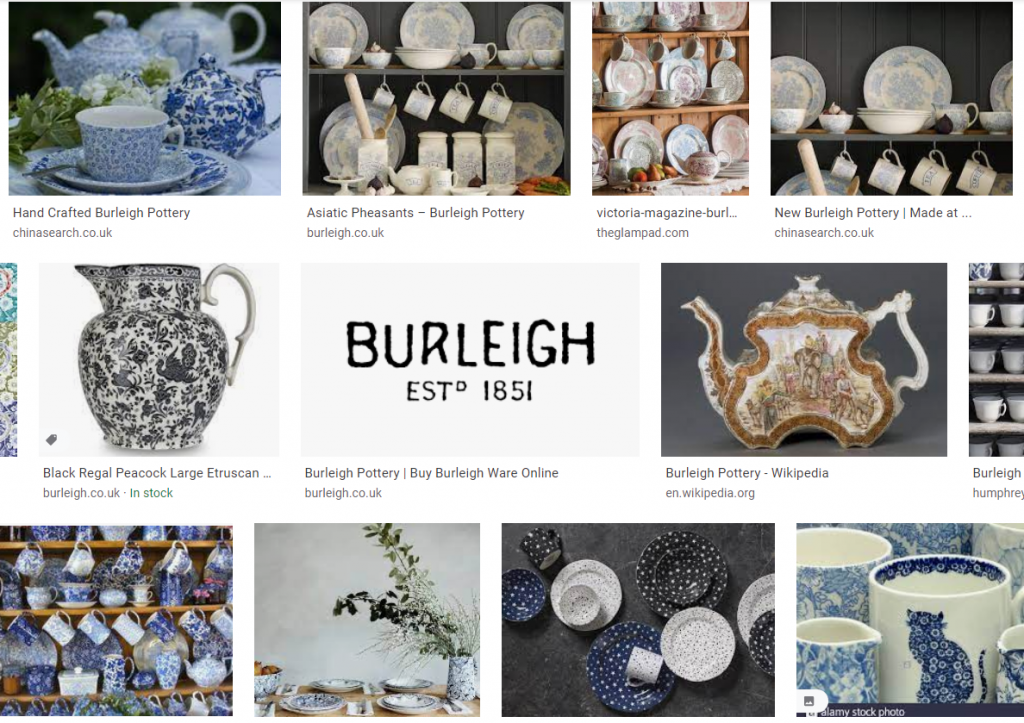 If I remember correctly, the vase above has been around for maybe two years or so. It has a lovely appearance to it, and it reminds me of something that may be made out of denim fabric or denim finish, which is a fantastic aesthetic.
Plates have a dark blue, almost like a denim look; They all have this finish; It's not a solid finish, but more of a speckled finish, and this is just stunning. The Mugs colour is a lighter blue with animal and floral patterns.
There are also mugs and they come in these really nice boxes. The top is off on this one but it has a tub that goes over it. They make very nice gift items. In this box you can see these beautiful nesting dolls that are designed in the same style as a Southwestern sort of a decoration. It's a big collection with many products. There are also mugs and they come in these really nice boxes.
This product above is very deep and beautifully designed. It's difficult to explain the design because it's just so deep and smoothly made with a very nice finish on the edges. I need the quality to be very obvious and you just have to look at it from close up and touch it. We will have links to these products. For the most part, you can buy from the main website or from Amazon.com when the products are available, we have many outlets in the UK and you can find the stockists on their website.
This item right there, the three-tier desert server, is manufactured wonderfully in England by a business called which has been there for more than a hundred years. It's perfect for tiny cakes or tea sandwiches or sandwiches, and it's perfect for all of that. The business was established in 1851 at the Central Pottery in Burslem as Hulme and Booth
If you go to the Ralph Lauren website, you will see products that are designed and made for Ralph Lauren based on Ralph Lauren's designs. These are model gift items that Bernie has, which are similar to a cross section of a cod. I'm not sure if I mentioned it before, but Bernie has been around for years.
So above is just a small sampling of the Danby and Bernie collection, and hopefully I'll have more to show you in the future, but I wanted everyone to kind of see these again because many of you are probably familiar with them from before.
Staying in business for so long. They have been in business for years, and for only about one hundred sixty years. They are still manufactured in England. They are manufactured in accordance with the high quality standards in Europe and England. Rounding it up – Beautiful products and beautiful workmanship.
Reviews for Burleigh Pottery
[rkfrt-reviews place_id="ChIJGZm0-btCekgR4c8dFNg8nMI" latlng="1.969696,1.969696″]